Gary Vaynerchuk is known as a successful American entrepreneur, author of many New York Times bestsellers, and the pioneer in social media and digital marketing. He has built his career by knowing and being exactly where consumer attention is going next.
Who is Gary Vaynerchuk?
A lot of people know Vaynerchuk from his #AskGaryVee Show, a business and digital marketing focused Q&A YouTube and Facebook video show and podcast, as well as DailyVee, a docu-series highlighting his daily activities and what it's like to be a CEO, investor, speaker, and public figure in today's digital age.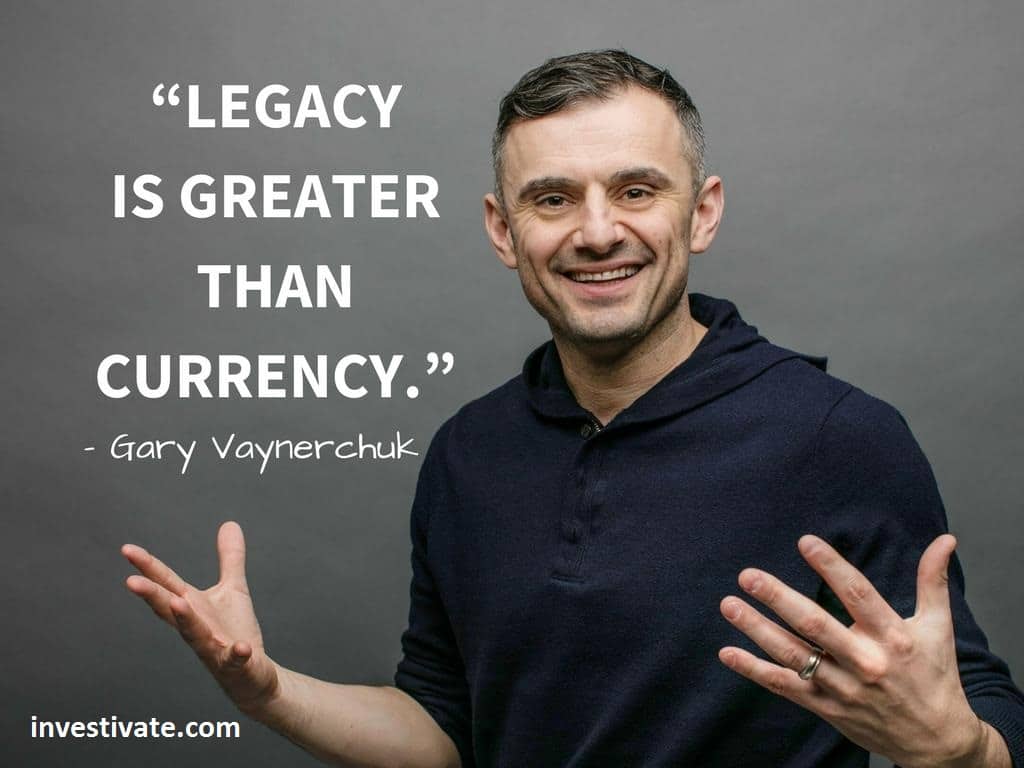 Early career start
Born in the Soviet Union (Republic Belarus), Gary moved to New York at the age of 3. As a child, he made his little fortune on baseball cards and after graduation from college, Vaynerchuk became in charge of his father's wine business.
The process of selling wine itself did not give him much of interest, but the idea of using modern technologies in marketing seemed quite fascinating. After the renaming Shopper's Discount Liquors store in Springfield, New Jersey into Wine Library, Vaynerchuk started online sales, using innovative for that time e-commerce, pricing, and e-mail marketing. By 2005 Vaynerchuk grew the business income from $3 million to $60 million a year in just five years.
Innovative digital business
Gary Vaynerchuk's life took a sharp turn when he launched Wine Library TV, which reached the number of 90,000 followers in less than 4 years. To build that show he used Facebook and Twitter, which soon made him a famous Internet personality.
That success led Vaynerchuk to launch the digital ad agency together with his brother in 2009. They called it VaynerMedia. The company started to grow very fast and by 2016, it became a workplace for 600+ employees, grossing $100 million in revenue.
Present time
Now Gary Vaynerchuk is CEO of VaynerMedia, the fastest growing social digital agency in America that provides social media and strategy services for the world's leading companies. Recently he also launched a new company, The Gallery, that houses women's publisher PureWow, and made a number of fresh investments.
Well-known for his investing and advising campaigns, Vaynerchuk works with Uber, Facebook, Birchbox, Tumblr, Twitter, Snapchat and many others. He is also famous for being a regular speaker at global technology and entrepreneurship conferences.
His innovative #AskGaryVee Show provides a live dialogue with common people, interested in social media developing, startups, entrepreneurship, family businesses and much more, sharing the personal Vaynerchuk stories and own experience.
Successful Bestselling Book Author
In 2009 Gary Vaynerchuk signed a contract with American publisher HarperStudio for publishing of 10 books.
By that time he had already had one best-seller "101 Wines: Guaranteed to Inspire, Delight, and Bring Thunder to Your World", but his new books brought him even more popularity.
"Crush It!: Why NOW Is the Time to Cash In on Your Passion" became #1 on the Best Seller list of Amazon for the books in Web Marketing. It was featured in New York Times,  the Wall Street Journal, CBS News, and other big media.
Three more books were released afterward: "The Thank You Economy", "Jab, Jab, Jab, Right-Hook" and "AskGaryVee: One Entrepreneur's Take on Leadership, Social Media, and Self-Awareness", all claimed to be marketing best-sellers.
Gary Vaynerchuk's Wife and Family
Gary is a family man and he puts family first. Lizzie Vaynerchuk is his wife. In one of the interviews, he said "I married Lizzie an hour and-a-half into our first date and it was because I was intuitive about how she was wired… My wife is massively independent, and without that, I would have absolutely no shot in doing what I'm doing." He also has a daughter and a son which he mentioned in this interview with Larry King:
I love my wife with every ounce of my soul! 🙂 #lizzieFTW nothing happened just a burst 0f thought 🙂

— Gary Vaynerchuk (@garyvee) July 20, 2013
Gary Vaynerchuk Net Worth
A lot of people are interested in knowing Vaynerchuk's net worth which is fair because we live in the world today where there are many self-proclaimed so-call "experts" who are broke and fake. Also, people want to know if Vaynerchuk actually gets results. Money or net worth can be used as a good measurement of how good you are at what you do. Another reason we can think of is because Gary always talks about the grind and hustle, so people might want to know how much financial reward an entrepreneur can achieve for going all in.
There are some websites out there that estimate his net worth of $10 million which is way underestimated. While right now, there is no official estimation from Forbes, but we believe he's worth around $100M or more, considering his various investments in Facebook, Twitter, Tumblr, Birchbox, Uber, etc… and his stake in VaynerMedia and WineLibrary as well as book deals and highly-paid speaking gigs.
The big question isn't how much money he's made but if he is the real deal and worth listening to. The answer is of course! Gary is the real deal. He worked all his 20s to build a successful real business before many of us even heard of him. His solid advice is from real world experience, not from theory or books. He was successful before he started to share his advice online. He definitely walks the walk and knows what he's talking about, not someone who is "trying to fake it and hopefully, one day will make it".
Gary Vaynerchuk's Inspiring Business and Life Quotes
Gary Vaynerchuk's life is inspiring and impactful. His work inspires aspiring entrepreneurs to take advantage of the current stage of the internet – social media – to build their online business based on their passions and being bold enough to become an entrepreneur.
He is also big on self-awareness and hustle. People love him because of his way of communication: using strong language, humor, sincere, tell it like it is and his passion to inspire entrepreneurs at all age and leaving a legacy.
Below are our favorite quotes and saying of Vaynerchuk. Some quotes may contain strong language and truths that you might not be able to handle, readers discretion is advised.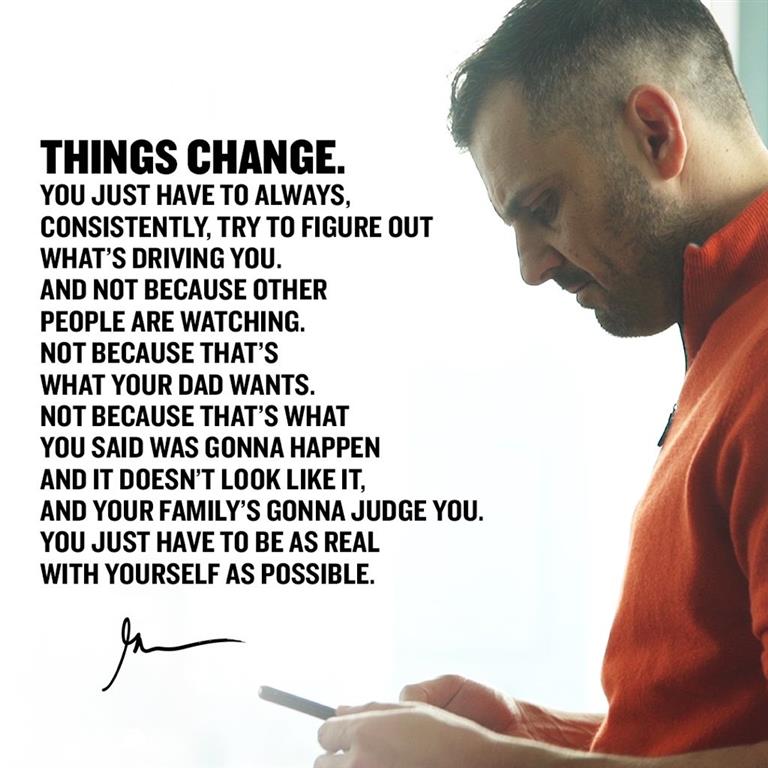 [thrive_headline_focus title="Hustle and Motivation" orientation="left"]
"Stop whining, start hustling."
"Wake up before everybody else and work into the night. Hustle"
"It pisses me off how many people contact me and say how lucky I am "Oh Gary, you're so lucky"… and I just want to sit there and be like "Thanks for thinking I'm lucky, but remember that time when we were 21 and you were at the Jersey shore with hot chicks? I was working my ass off…"
"Without hustle, your talent will only get you so far"
"Effort is grossly underrated."
"From age 16, I lived and breathed wine. I read every magazine and book about wine."
"You are not patient enough. Your lack of patience is killing you and your need of things is killing you."
"It's easy to dream about it, but much harder to execute it"
"Ideas are worthless without the execution; execution is pointless without the ideas."
"Do the work. Everyone wants to be successful, but nobody wants to do the work."
"People talk shit, and I know that most of you, 99 percent of you, aren't going to do anything."
"Work your face off! 24 months of eating shit, to eat caviar the rest of your life."
"Smart work will never replace hard work, it only supplements it."
"Stop focusing on dumb shit. Don't be afraid to break things. Don't be romantic. Don't take the time to breathe. Don't aim for perfect. And whatever you do, keep moving. Reread this a few times…"
"Even if your ambitions are huge, start slow, start small, build gradually, build smart."
"Live your passion. What does that mean, anyway? It means that when you get up for work every morning, every single morning, you are pumped because you get to talk about or work with or do the thing that interests you the most in the world. You don't live for vacations because you don't need a break from what you're doing – working, playing, and relaxing are one and the same. You don't even pay attention to how many hours you're working because to you, it's not really work. You're making money, but you'd do whatever it is you're doing for free."
"Skills are cheap, passion is priceless."
"I failed all my classes and that's why I'm winning. In hindsight, the fact that I was considered a failure for the first 18 years of my life has become the foundation of my success."
"We only get to play this game one time… one life."
[thrive_headline_focus title="Business and Personal Brand" orientation="left"]
"Developing your personal brand is key to monetizing your passion online."
"There no longer has to be a difference between who you are and what you do."
"Too many people are scared to share their visions and thoughts in public or even in board-rooms. Having a strong vision is important for your personal brand. Don't be afraid to say what you think. Ever. That said, don't forget to listen, either."
"If your work is great, that becomes your reputation, and that becomes the gateway drug to bring business into your sales funnel."
"There's no reason to do shit you hate. NONE."
"There is never a bad time to start a business – unless you want to start a mediocre one."
"It's what you don't do that will screw with you later on."
"Put out quality content every day and engage around it."
"You need to spend all of your time and energy on creating something that actually brings value to the people you're asking for money!"
"It's VALUE: It comes down to how much value you can bring to the audience."
"I attract a crowd, not because I'm an extrovert or I'm over the top or I'm oozing with charisma. It's because I care."
"The best marketing strategy ever: CARE"
"When I hear people debate the ROI of social media? It makes me remember why so many business fail. Most businesses are not playing the marathon. They're playing the sprint. They're not worried about lifetime value and retention. They're worried about short-term goals."
"Cash is oxygen. You can make the greatest cup of coffee, the greatest sneaker, the greatest TV show, or the greatest work of art ever, but if you can't sell your product you are out of business."
"I'm a storyteller. I love to tell stories about brands. I love to tell stories, period. I like painting pictures through the words, and that's what I do."
"Never be romantic about how you make your money."
"Some dude bought 8,000 horses before the car was invented… he lost!"
"Bullshit entrepreneurs cry about the way they want it to be instead of reacting to the way it actually is. You can't cry about the way it is. That's just never, ever, ever, ever the right move."
[thrive_headline_focus title="Life, Legacy, Relationship and Self-Awareness" orientation="left"]
"The reason we love our parents is because they loved us first. Every single company should take this advice."
"That's why I love losing: It's a motivator for me. I don't believe anybody. I don't believe their comments on YouTube…I don't believe my mother… I believe ME."
"People are chasing cash, not happiness. When you chase money, you're going to lose. You're just going to. Even if you get the money, you're not going to be happy."
"The truth is that finding happiness in what you do every day is so imperative."
"If you live for the weekends and vacations, your shit is broken."
"Legacy is greater than currency."
"Your legacy is being written by yourself. Make the right decisions."
"People need to start breaking the rules. Stop going about it the way you think that it needs to be done."
"I want to sit with 80- and 90-year-old people more than anyone. They have played this game before. Not one of them has told me, 'I wish I had more money."
"Time – the one asset none of us are ever gonna get more of."
"Find the five people who are closest to you in the world, spend a week, not 5 minutes, making them feel safe for the question you're about to ask them, which is: Tell me what I am good at, and tell me what I am bad at." (self-awareness)
"You have to understand your own personal DNA. Don't do things because I do them"
"Figure out who you are – optimize who you are – but never apologize for who you are, ever!"
"Whether you're 9 or 90, stop trying to fix the things you're bad at, and focus on the things you're good at."
"Love your family, work super hard, live your passion."
"If you fail and people laugh at you, they're not worth your time. Ignore them."
"When given the choice, people will always spend their time around people they like."
"Provide 51% of the value in a relationship, whether it's with an employee, a client, or a stranger."
"Relationships are leverage. If you give value to someone else first, you have leverage."
"Passion is an unmatched fuel. Add being happy to that and you have a wonderful formula for good health."
There you have it! Make sure you follow Gary on social media for his daily inspiration and practical advice. If you love these sayings from Gary, feel free to share this post on your social media. And as Gary would say, figure out who you are, go all in on who you are and stop caring about what people think of you.